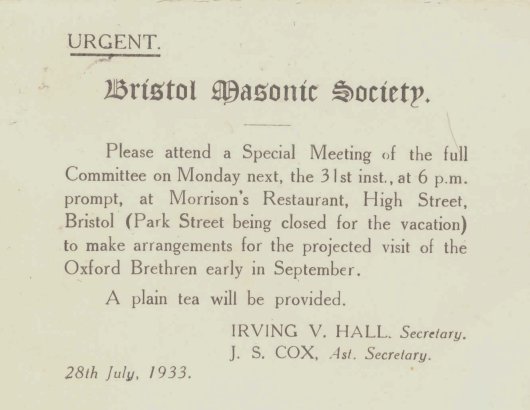 CONTACT DETAILS

President
John R.K. Bassett, O.B.E.
c/o Bristol Masonic Society
Freemasons' Hall
31 Park Street
BRISTOL
BS1 5NH


Secretary
Paul S. Robinson
1 Jack Knight House
Dovercourt Road
BRISTOL
BS7 9SN
Tel: 07811-371055
email: paul@psrobinson.co.uk

Treasurer
Kevin Thomas
24 Tolver Road
PENZANCE
TR18 2AQ
Tel: 07528-681380
email: kevin.thomas@bristol.ac.uk


Transactions Editor
Tony (A.R.) Baker
30 Clyde Road
Redland
Bristol
BS6 6RH
Tel: 0117-3730990
email: antonybaker_3@hotmail.com


TO ARRANGE A VISIT

If you would like to visit one of our meetings, either as an individual or as a group, please contact the Treasurer - especially if you would like to stay for the meal.

The dress code is smart casual, including the BMS tie.